Can your students benefit from a virtual student exchange? Do they need leadership skills that

translate into the classroom, college, and

workforce preparedness?
Through Bringing the World to Florida's international virtual exchange program we provide leadership training, cultural exchange, and resources for tomorrow's leaders because we value exposure, access, and opportunities for all.
Watch the Intro Video for Bringing the World to Florida
Watch Program Co-Founders, Cairo Eubanks and Rayna Exelbierd introduce Bringing the World to Florida to students!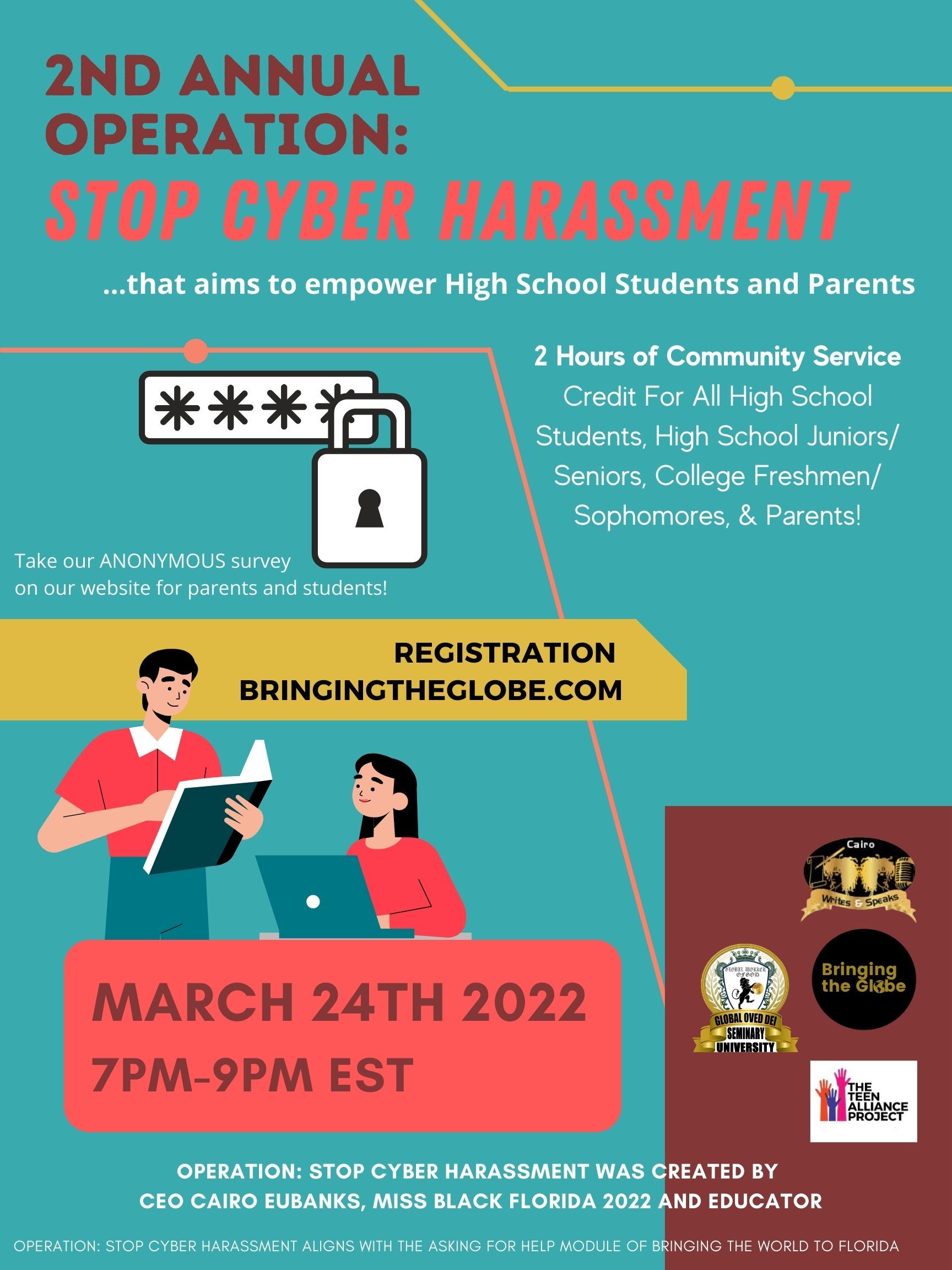 Have you registered for Operation: STOP Cyber Harassment?

March 24, 2022-7PM EST
Our CEO, Cairo Eubanks, created Operation: STOP Cyber Harassment in April 2020 as a resource
after experiencing online serial Harassment while in college
and realizing that the
same individual
was harassing over 30 individuals on her campus.
Over 240 Teens and Parents Registered!


Originally intended to be a one-time event, the fantastic feedback from the kids who wanted her to do workshops at their school inspired Cairo to survey the students who attended to ask them to share examples of what they would like to see in leadership development programs and curricula.


Their answers created Bringing the World to Florida, an International virtual student exchange program that combines an 11-module course, workshops that connect to the module topics, and conferences where students can interact with their instructors and each other while experiencing experiential learning.


Operation: STOP Cyber Harassment has now become an annual conference that connects to Module 8: Asking for Help of the Bringing the World to Florida curriculum.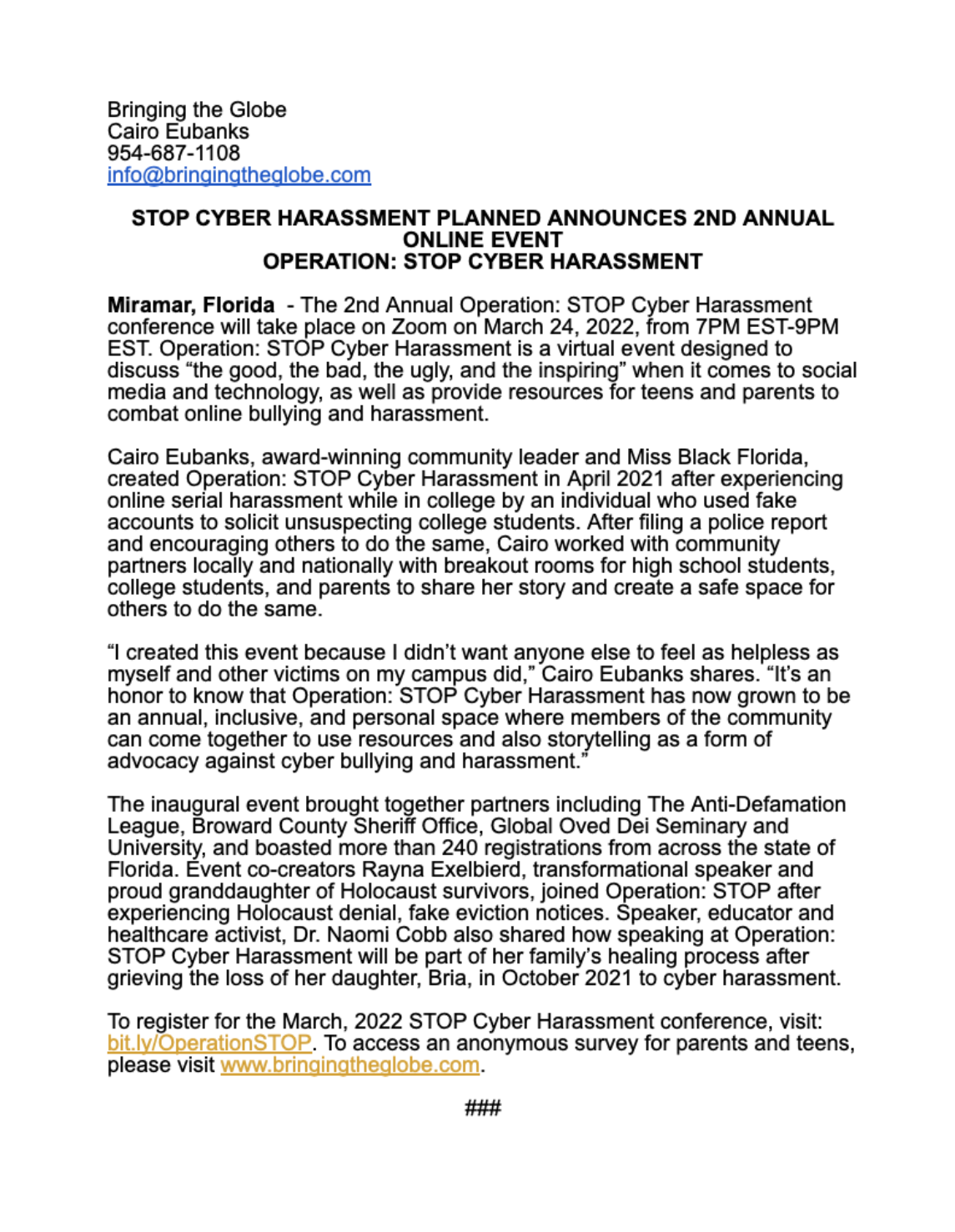 About Bringing the World to Florida
Bringing the World to Florida is an international virtual student exchange program for students between the ages of 13-18 years old that provides exposure, access, and opportunities through self-paced personal and professional development modules; bi-monthly virtual seminars where students can interact with students in other countries; and a virtual bulletin board where students can learn about local and international conferences, workshops, and community service opportunities
Bringing the World to Florida
We will help your students unlock their inner potential so that they can excel in any professional field. The modules of our programs are:
Intro

Identity

Leadership

Storytelling with a Purpose

Relationship Building

Goal Achievement


Mental Health

Asking for Help

United Nations Sustainable Development

Developing Your Passion for Community Service

Next Steps
Learn More About Our Goal and Action Plan by clicking below to Access Our Sponsorship Page!
Meet The Founder
Cairo Eubanks is the New Future Foundation Youth Representative to the United Nations and
Youth Steering Committee Member.

She is also the Global Correspondent for GODSU. A
curriculum developer, Cairo's created programs for students in Tamil Nadu, South India, and
Broward County, Florida, which is the foundation for Bringing the World to Florida. Cairo received
a Proclamation from Mayor Dale Holness on October 10, 2020, and the Rising Star Award from
Mayor Wayne Messam for her community work and program development that foster leadership
development and cultural exchange.

She reigns as Miss Black Florida USA 2022 for Miss Black
USA.
Our eClasses are the best choice for everyone
Outstanding features for highly customizable Courses, Units, Lessons, and Quizzes
Exposure
Self-paced leadership course, exploring topics like Identity,




Creating Dialogue, Goal Achievement, and more




Leverages evidence-based and scientific research valuation tools




Students gain transferrable skills in advocacy, communication,




passion development, and more



Access
Exclusive town-hall-style live and virtual workshops that go more




in-depth with course content




Space for students to find out about youth-led or youth-focused




events happening at the United Nations and other youth focused organizations



Opportunities
Bulletin board with access to local/global community service




Experiential learning from in-person and virtual internship/externship




opportunities and community service opportunities




Chance to be featured on Storytelling with a Purpose, a podcast in




collaboration with the United Nations Department of Global




Communications



97%
of executives say that soft skills were equally important to technical skills
82%
of executives say that they have a very
difficult or somewhat difficult time
finding people with the requisite attributes
Our Leadership team
Meet the Rest of The Team
Rayna Rose Exelbierd
Co-Founder
Growing up in Memphis, Tennessee, Rayna never experienced any racism or anti-Semitism. As the granddaughter of Holocaust survivors, she never believed she would experience anti-Semitism in her lifetime. This was quickly contradicted when she began college. Rayna experienced many challenges including cyberbullying, a mock eviction noticed taped on her door, anti-Semitic comments, and even Holocaust denial. Rayna was shocked to learn that even where Jewish communities are strong, there is still more work that needs to be done. Since 2010, Rayna has spoken to over 100,000 people in various demographics. She ignites other's passions by sharing her own story, empowering others to enrich their communities through organizing and storytelling. She has organized hundreds of events since she was a teenager, and has been fundraising for different organizations since she was 12 years old.
Sudan
Social Media Manager
Sudan Alex-Rose Lizz Eubanks (S.A.L.E), a fifth-generation Floridian, is an entrepreneur and public speaking POWERHOUSE.
Sudan is Miss Black Florida Talented Teen and is an advocate for Youth Community Service. She's volunteered in the Best Buddies program, where she mentored and aided children with disabilities and tutored sixth graders for three months! Furthermore, she packed and distributed food and toiletries that aided hundreds of families.
In addition to her acts of kindness, Sudan, at only fourteen, is at the center of multiple initiatives, including "Reading With Royalty," a virtual book reading initiative aimed at encouraging imagination and providing an avenue for children in hospitals to feel connected to the world around them at this time! Since launching in April 2020, she's facilitated 500 readers from 50 states, and two territories (Guam & Puerto Rico), and six countries (Canada, Australia, England, Greece, Netherlands), secured a partnership with select Children's Miracle Network Hospitals, and has been featured in the Miami Herald!
Sudan, a global leader, is a youth volunteer for NFFI - JA (New Future Foundation INC., The Jamaican Chapter; a United Nations NGO).
Katie Dundorf
Student Creator
Katie is a student creator whose purpose is to connect deeply with others and in the process learn how to live a more meaningful life. Currently she is traveling the world with Long Island University to learn how to build global communities of impact. Katie is the Co-Founder of Teen Tribe, Inc., a non-profit organization. She uses multimedia storytelling and tenets of entrepreneurship to connect people and ideas. Her accomplishments include 3 TED-Ed speeches and organizing and facilitating weekly club meetings at her high school's TED-Ed Club. She loves planning events for her community to learn more about student empowerment, social justice, and education reform through meaningful dialogue.She is always looking to connect with people that want a driven, motivated youth's perspective to do good in this world. She loves connecting with new people.Collaboration ToolNEW
Students' Feedback from Past Programming:
"Your classes are more interesting than others…I liked the real life examples you had given us and and this made us listen to class…I liked the real life examples you had given us and this is what made us listen to your class. Your teaching lessons step-by-step helped us concentrate and understand what we were taught. Usual classes that have a little excitement and fun are classes we understand and help us a lot"
K.S, 9th grader, South India
"I really liked that there were so many people present and displaying their desire to make a change in our community. All of the speakers were very informative, interactive. I enjoyed hearing different inputs from the speakers."
S.D., Broward County, FL
"Miss Cairo, your teaching style was unique. [Past teachers] did not teach us on discrimination, prejudice, and different stages of a woman. [The topics] were something we could all relate to and it was enjoyed."
J.P., 9th grader, South India
"I love how open and comfortable the presenters were. They were amazing and kindly spoken. It was very helpful to me"
Operation: STOP Cyber Harassment Event Attendee

Looking for

community service and internship opportunities for

your

students to

gain experiential