What is Bringing The Globe?
Bringing the Globe is a virtual international student exchange program and a global village for students equipping them with the transferable skill sets and resources they need to thrive. BTG provides self-paced courses, live and virtual workshops, and online international conferences every year that leverage evidence-based and scientific research to help students find their purpose and passion.

Join the community

Sign up for our newsletter.
Get exclusive news, tips & tricks
Our Cultural Exchange Initiative
COMMUNITY GLOBAL WORKSHOPS MADE FOR STUDENTS
In 2018, community leader Cairo Eubanks received a grant to live and teach in South India, where she created public speaking workshops for high school students. Subsequently, in 2020 during the Covid-19 pandemic, she launched Bringing the Globe, which connects youth from around the world through its online student exchange platform. The virtual workshop-style program, allows students 13-18 years old worldwide to experience international cultural exchange.
Our program equips all teens with the skills they need to to be future leaders and create change in their own communities, because
Every Child Deserves the World.
CAIRO EUBANKS
Founding CEO
What we do, Why and How we do it
Get a quick orientation on Bringing the Globe, watch this video by Founder of BTG, Cairo Eubanks and Co-Founder of BTG, Rayna Exelbierd.
Top features
We will help you to unlock your inner potential so you can excel in any professional field!
EXPOSURE
Self-paced course

Leverages evidence-based

and scientific research

valuation tools

Students gain transferable skills in advocacy, communication and passion development
ACCESS
Exclusive town-hall-style live and virtual workshops on course content
A space for students to find out about youth led events happening at the United Nations and other youth-focused organizations
OPPORTUNITIES
Bulletin board with access to local/global community service
Experiential learning from in-person and virtual internship/externship

opportunities and community

service opportunities
Conference Course Programs Q1-Q4

—
Bringing the Globe, a student leadership and cultural exchange program guaranteed to empower and connect student leaders from around the world. The year is divided into different topics. Every year, BTG hosts four in-person and/or virtual conferences that are then converted into courses where students can receive resources and community service hours year-round!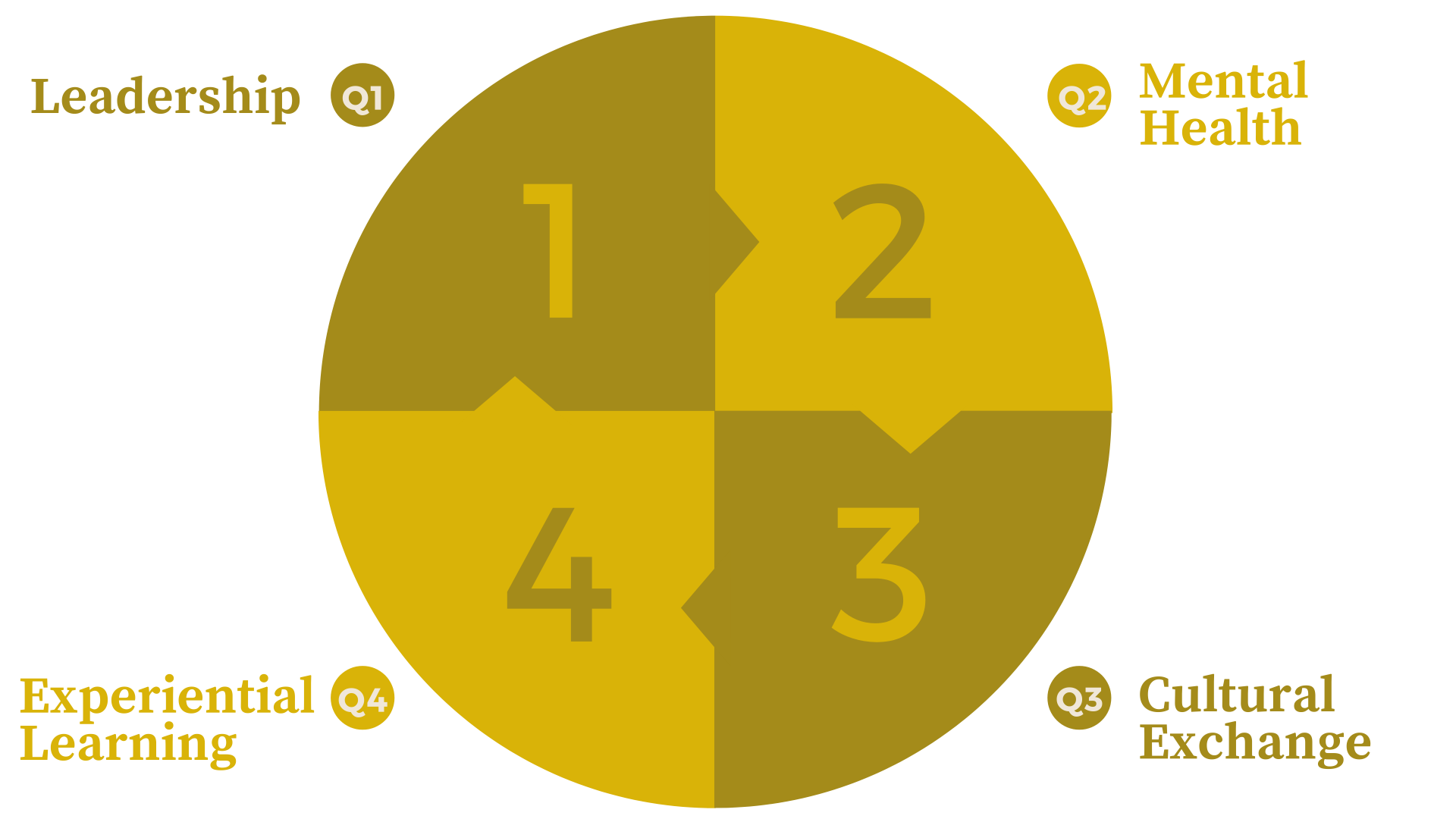 Q1
Leadership
Module 4: Identity
Module 5: Leadership
Module 8: Goal Achievement
Q2
Mindset
Module 9: Asking for Help
Module 10: Mental Health
Q3
Culture
Module 11: UN Sustainable Development Goals
Module 8: Storytelling with a Purpose
Module 7: Relationship Building
Q4
Experience
Tying the Bringing the World to Florida curriculum together using experiential learning!
12. Developing Your Passion for Community Service
Our staff
Meet our core team
Cairo Rose Eubanks
Founder and ceo
Speaker & Miss Black Florida 2022
The foundation of Bringing the World to Florida was inspired by the leadership programs Cairo created while a Grant Recipient in Tamil Nadu, South India. Cairo has spearheaded or initiated programming for local and international organizations, including the United Nations Department of Global Communications Civil Society Unit as a DGC Steering Committee Youth Representative for New Future Foundation.
Rayna Exelbierd
Co-founder and cmo
Entrepreneur & Teen Mentor
Author of The Girl Who Said Hello to Everyone. Rayna is a Motivational Speaker who has spoken to over 250,000 people live; she has empowered hundreds of her mentees to discover their passion and take action.
Umi Forsythe
Business Architect
With over 10 years of experience as an architecture and engineering professional in construction, Umi interprets and contextualizes structure for BTG's operational needs and helps streamline and rationalize the program outcomes.
Joseph Quinones
creative director
Joe has over 15 years of Office and Operation Management. He is responsible for the creative vision of the BTG brand/projects and manifests that vision through digital, print and film installations.
A Brief History of Bringing the Globe
We offer courses in data analysis, statistics, machine learning, and so much more.
We also have an award-winning team of experts who will teach you what you need to know.
January, 2018
Our CEO, Cairo Eubanks received a grant to teach and design public speaking workshops for students in Tamil Nadu, India. While in India, she created a curriculum for her students that promoted cultural exchange and storytelling.
April, 2020
Cairo experienced online sexual harassment and realized that other people from her college were being harassed by the same individual. She launched Operation: STOP Cyber Harassment to be a community conference that provides resources and tools to parents and teens who are experiencing cyber harassment and bullying.
November, 2021
After surveying 150 students, we filmed a 14-module online curriculum with four themes: Leadership, Cultural Exchange, Mental Health & Resilience, and Experiential Learning.
March, 2022
The team launched the 2nd annual Operation: STOP Cyber Harassment and turns the conference into a course to provide year-round access to resources.
conference series
How it Works
After surveying 150 students from the 1st annual Operation: STOP Cyber Harassment, we created modules on the following topics:
Identity
Leadership
Goal Achievement
Storytelling with a Purpose
Developing Your Passion
Asking for Help
Mental Health
United Nations Sustainable Development Goals
Relationship Building
The curriculum for the complete program with all modules was titled
Bringing the World to Florida.
We then created a course model that combines our modules into 4 themes:
Leadership
Mental Health
Cultural Exchange
Experiential Learning
These themes combine our live courses with our Bringing the World to Florida modules to create conference courses!
Launched in April 2022, we released our first conference course,
Operation: STOP Cyber Harassment!
Frequently Asked Questions
How old do I have to be to take this course?
Students between the ages of 13-18 years old who are interested in gaining leadership skills or want to create change in their communities are welcome.
What courses will I take?
Our conference courses include course content from our Bringing the World to Florida curriculum:
Identity



Leadership
Storytelling with a Purpose

Relationship Building




Goal Achievement



Mental Health
Asking for Help
United Nations Sustainable Development Goals

Developing Your Passion for Community Service
Do you offer community service hours?
With us, you'll have the potential to not only earn community service hours while learning but apply what you learn from the modules in workshops and youth-led/youth-focused events. Our students regularly participate in local, state-wide, national, and international workshops/events.
Please note that the course doesn't end after you finish the conclusion module; all students have access to the live workshops and announcements for youth-focused and youth-led events programs and initiatives. We are here to be a resource for you!
What if I don't live in Florida?
Not a problem! The program is an international virtual student exchange to be accessible to as many students as possible.