Gain leadership skills and connect with students around the world without leaving your doorstep! We want YOU to succeed!
Bringing the World to Florida is a hybrid international virtual student exchange, facilitated through an online digital course and workshops for students in Florida and students from South Africa, India, and Jamaica.
Scroll on the iPad or click on the document to view the full page! All links are clickable!
Watch Our First Module: Intro to Bringing the World to Florida
We will help you unlock your inner potential so you can excel in any professional field!
Are you an Educator/Organization/Potential Sponsor?
Exposure | Access | Opportunities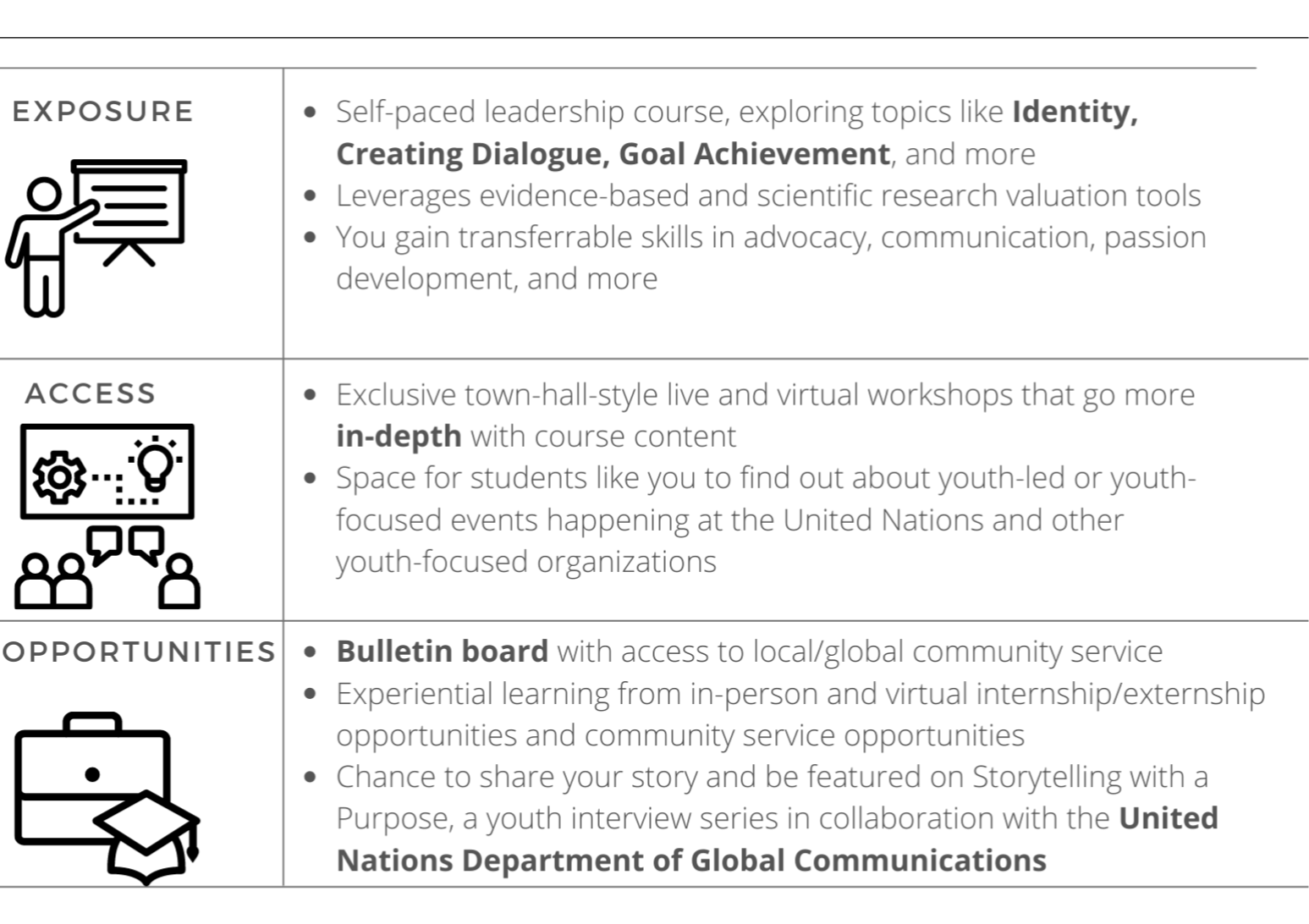 Bringing the World to Florida is an international virtual student exchange that creates access to development and opportunity for tomorrow's leaders regardless of location or socioeconomic status.
Are you ready to find your passion and develop your confidence? Are you interested in community service opportunities for hours and experiences?
"Miss Cairo, your teaching style was unique. [Past teachers] did not teach us on discrimination, prejudice, and different stages of a woman. [The topics] were something we could all relate to and it was enjoyed."
J.P., 9th grader, South India
"I liked the format of having multiple breakout rooms for topics, and also the speakers were great!"
J.S., Broward County, FL
"I really liked that there were so many people present and displaying their desire to make a change in our community. All of the speakers were very informative, interactive..I enjoyed hearing different inputs from the speakers."
S.D., Broward County, FL
"Your classes are more interesting than others…I liked the real life examples you had given us and and this made us listen to class…I liked the real life examples you had given us and this is what made us listen to your class. Your teaching lessons step-by-step helped us concentrate and understand what we were taught. Usual classes that have a little excitement and fun are classes we understand and help us a lot…you classes were amazing and we hope you keep up the videos, real life examples, and exciting things in class."
K.S, 9th grader, South India
Bringing the World to Florida really began in India...
Please watch this excerpt from the United Way of Broward Youth Leadership Institute Conference where our CEO talks about the history of our first program
Here is an excerpt from the presentation that Cairo conducted for 300+ students for the June 2021 virtual Youth Leadership Institute Conference held by the United Way of Broward!
97% of students surveyed just like you said they wanted to become more active
Bringing the World to Florida
Here's a message from our Founder!
1K+
impacted through workshops and initiatives
12
Advocacy and Leadership Modules
Bringing the Globe begins with...Bringing the World to Florida!
The course Bringing the World to Florida will be launching at our FREE conference on Thursday, March 24, 2021 at 7PM EST!
Control how you learn & progress
Private Learning
A complete education program starts with video modules.
Live Workshops
We feature a series of special workshops led by our instructors and guest speakers.
High School and College Students
Our learners between the ages of 13-18 years old can benefit from learning with their peers, no matter their age or where they live.
Our programs
Our menu of topics have been used in fellowship and youth leadership programs in the state of Florida as well as throughout the United States.
Join our newsletter
Get weekly updates on live streams, news and more right in your mailbox.
Do you want to learn more about our program?
Please click the button below for a PDF with more information on Bringing the World to Florida!
Join the community

Sign up for our newsletter.
Get exclusive news, tips & tricks
Frequently Asked Questions
How old do I have to be to take this course?
Students between the ages of 13-18 years old who are interested in gaining leadership skills or want to create change in their communities are welcome!
What courses will I take?
Course content is on the following modules:
Intro: What Inspired Bringing the World to Florida and What to Expect
Identity
Leadership
Storytelling with a Purpose

Relationship Building




Goal Achievement



Mental Health
Asking for Help
United Nations Sustainable Development Goals

Developing Your Passion for Community Service

Next Steps
Do you offer community service hours?
With us you will have the potential to not only earn community service hours while learning but apply what you learn from the modules in workshops and youth-led/youth-focused events. Our students regularly participate in local, state-wide national, and international workshops, events, and more. And several of these events will offer community service hours as well, so please look out for these opportunities!

Please note that the course doesn't just end after you watch the conclusion video; all students have access to the live workshops and announcements for youth-focused and youth-led events programs and initiatives. We are here to be a resource for you!

What if I don't live in Florida?
Not a problem! This program is an international virtual student exchange to be accessible to as many students as possible.
Register for our FREE virtual Conference in March 2022!
We will also be launching Bringing the World to Florida! Mark your calendars for March 24, 2022 AND sign up below so that you don't miss out!